Adobe Road Winery is offering Custom Virtual Tasting Packages to fit any need, group, theme or budget. Enjoy the individual online dialogue to engage and delight, with our top-tier hospitality staff, winemaker Garrett Martin, and founder Kevin Buckler. We are taking the Virtual Tasting Experience to the next level!
You use your own inspiration and we do all the work, putting together a virtual tasting for your group of your friends, business associates, clients or VIPs — from 5 to 500.
It's as easy as 1-2-3
1. Choose your budget
2. Select one of our hand-crafted packages, or choose your own wines and add-ons
3. Tell us the date and time and Adobe Road will send out invites and host the gathering on Zoom
Get with your group and decide a custom package you might like. Whites, reds, a nice selection across the board or go for the BIG RED package with all three of our Cabernets as well as a "barrel sample" of what's coming and MORE…
Let us be your personal Happy Hour. Book for your staff, clients or friends—let us do the work.
...Or jump in with the exciting new Racing Series of wines and let's talk cars!! Invite a few of your drivers or ours and let start our engines!!
---
Hand-Selected Virtual Packages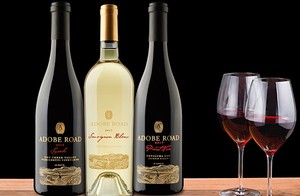 Wine club members receive 15%-25% discount on each package. Discover Our Memberships
---
Rhône Explorer
$139
Take a virtual trip along the length of Sonoma County — from the cool temperatures of Carneros Valley in the south to the warm climes of the sparsely populated Knight's Valley in the north.
2018 Viognier, Dry Creek, Famighetti Vineyards
2016 Syrah, Petaluma Gap, Sangiacomo Vineyards, Fedrick Ranch
2017 Grenache, Dry Creek, Famighetti Vineyards
Purchase package
Fruit & Spice
$159
Two Burgundy-style varietals and the spice of a Dry Creek Zinfandel.
2017 Charonnay, Carneros, Sangiacomo Vineyard
2017 Pinot Noir, Griffin's Lair
2017 Zinfandel, Dry Creek, Famighetti Vineyards
Purchase package
Bubbles & Reds
$151
Add a touch of sparkle with this easy-to-approach tasting package.
2018 Sparkling Rose
2017 Grenache, Dry Creek, Famighetti Vineyards
2017 Merlot
Purchase package
Across Sonoma County
$195
Take a virtual trip across Sonoma County from the cool Carneros region to the warmer climes of sparsely-populated Knight's Valley.
2017 Charonnay, Carneros, Sangiacomo Vineyard
2017 Pinot Noir, Griffin's Lair
2015 Cabernet Sauvignon, Knight's Valley, Bavarian Lion Vineyards
Purchase package
The Big Dog Cabernet Tasting
$348
3 impressive Cabernet Sauvignons from our flagship vineyards in Napa, Dry Creek and Knight's Valley.
(*Contact us for a special 2017 Barrel Sample of our Cab(s) at no additional cost.)
2015 Cabernet Sauvignon, Knight's Valley, Bavarian Lion Vineyards
2016 Cabernet Sauvignon, Dry Creek Valley, Blue Dog Vineyards
2016 Cabernet Sauvignon, Beckstoffer Vineyards Georges III
Special Barrel Sample of our 2017 Cabernet of your choice
Purchase package
Racing Series Tasting
Choose 2, 3 or all 4 wines for your tasting!
2018 Redline - $45
2016 Shift - $56
2016 The 24 - $66
2018 Apex - $78
$245/Person, all 4 wines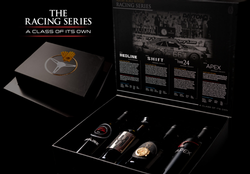 THE RACING SERIES GIFT BOX
WITH ALL 4 WINES - $299
Your Custom Wine Selections
Craft your own wine lineup!
Simply give us a call.
Customize with Add-Ons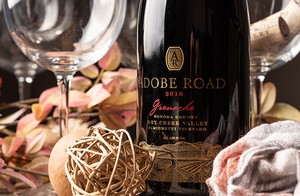 ---

Co-host with local restaurant or club
The local restaurant can prepare your meal and you can pick it up or have it delivered before your tasting and then enjoy a Virtual Wine dinner with Kevin and/or Garrett or both
Namebrand or celebrity chef appearance
Invite a local chef to prepare the meal or recipe and join us for the virtual tasting to discuss the food and wine pairing.
Enhance your business meeting
Intertwine your business/sales seminar with our Virtual Tasting.
Pick your local charity
We will contribute part of the proceeds
Vineyard owner appearance
The vineyard owner from the specific virtual tasting can join.
Barrel tasting
Let us arrange a custom barrel sampling along with your package. Call for details.
Blind tasting package
Receive our wines discretely wrapped in brown paper. Guess the varietal or the year. Or, purchase our custom black glassware for the ultimate blind tasting experience
Corporate Breakout Session
Include an Adobe Road tasting in your next virtual business meeting. Enhance the experience with one of our corporate gifts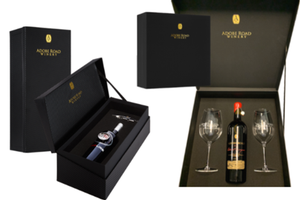 CARBON GIFT BOX (1 BOTTLE + CORKSCREW)
CARBON GIFT BOX (1 BOTTLE + 2 GLASSES)
STAINLESS STEEL CORKSCREW
Call Us to Create Your Custom Experience!
The Tasting Room: 707-774-6699, insidetrack@adoberoadwines.com
Katie Spies, Events Coordinator, 727-452-4462, katie@adoberoadwines.com
Garrett Martin Winemaker, 707-799-4072, garrett@adoberoadwines.com
Kevin Buckler, Founder 415-860-7223, kevin@adoberoadwines.com
---
Enhance your Wine Tasting Experience
Gather the perfect tools and equipment for your virtual wine tasting.
Adobe Road Stemware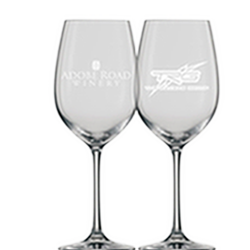 2 Sided Etched Bordeaux Style - 22 oz.
Adobe Road Blind Tasting Kits

Set of 2 $29.90
Set of 4 $56.00
Blind-tasting Glasses
Hone your sensory skills and up your blind tasting game with blackout wine glasses! Without any visual clues about the color or viscosity of the wine you'll rely solely on your nose and palate. Challenge your friends to identify the wines in a blind tasting showdown! Or trick them in a game of "is it a Zinfandel or is it a Pinot?"

$28.00
Set of 5 Blind Tasting Bags
Have fun as you conceal the wines in these blind tasting bags and challenge each other to guess the contents. There are lots of exiting ways to have fun.
Coravin - Keep Your Cork Sealed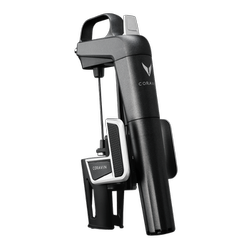 Was $299
Now $209*
This is one of the most innovative tools on the wine market. A surgically precise needle penetrates the cork and extracts a select amount of wine, keeping your wine airtight and fresh.
*As low as $159 with Virtual tasting package. Contact us directly.